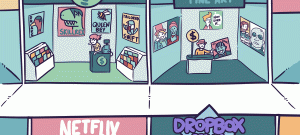 For 365 days, Paul Miller disconnected from the internet. We'd like to tell you it was an idyllic journey of self-discovery, but that isn't quite the truth. On the eve of Paul's return, we... Regular visitors might have noticed we were offline in the past 24 hours. We had used a bit too much bandwidth last month, because we had a lot of visitors last month and caching... The guy in the video probably signed up for the offline social network of Hungry Beast and is now showing everyone his photos, following strangers and liking everything he sees. [Via 9GAG] The creators of the Australian show Hungry Beast wondered if people would share the same information offline as they would online. So they sent the hosts onto the streets to get people to sign...